You may be asking yourself, given the current decrease in travel and impact to airlines during COVID-19, should I still become a pilot? The answer is absolutely! The pilot shortage present before the pandemic is not gone, just on pause.
There is no denying that demand for travel is down, and airlines have responded by decreasing flight activity and putting a pause on immediate hiring. In some cases, pilots projected to retire within the next few years have opted to retire early due to this downturn.
However, this is a temporary effect. The pilot shortage has been long in the making but delayed before due to events such as 9/11 and the Great Recession – COVID-19 is no different. Airlines aren't going anywhere and will still be a preferred form of transportation. According to the FAA, more than 1 billion passengers flew in 2019.
According to Boeing's Pilot and Technician Outlook, prior to COVID-19 we were facing an unprecedented pilot shortage with more than 800,000 pilots needed over the next 20 years. As pilots reach the mandatory retirement age of 65, the industry will continue to lose an estimated 3,000 pilots per year due to this alone.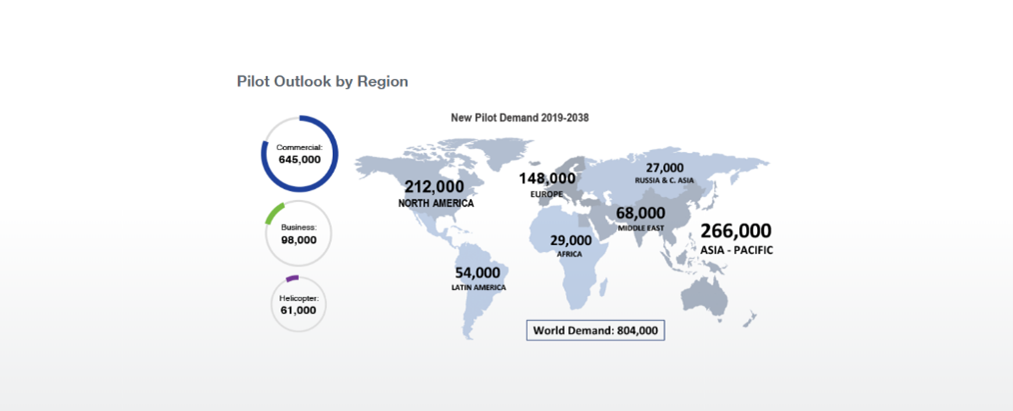 (Source: Boeing Pilot & Technician Outlook)
There is pent up demand for travel and after we stabilize from the virus, passengers will want and need to travel for business and leisure. This means a spike in demand could make the shortage larger than originally projected when the economy recovers due to the temporary reduction in workforce. Airlines will need to rapidly fill the available slots.
At minimum, the time it takes to qualify for an airline pilot job is 2-3 years so new students will be positioned to enter the industry just as the hiring demand resumes. For current students, the best option is to continue your training and build flight experience to become the most qualified and experienced pilot you can be. For those wanting to start flight training and become an airline pilot, now is still the best time to do so.